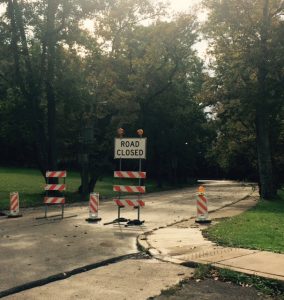 Road Closed—Is  this sign hanging on your  personal life?  Is your demeanor saying "road closed?" Sometimes we close the road to living our best lives without even knowing it. When this happens it prevents you from living your best life which is  your right.
At times we think in our minds that we have done everything we know to experience this best life, but see no manifestations. You ask,  why is it not happening for you?
The authorities placed this sign to warn you that this particular road is currently not in use due to some danger.  But, it does not matter the reason for it. The fact is, you cannot use this road and you are warned. Note that, the authorities have the power to do this. Similarly, you have the power to display or remove such a sign from your life journey because you are the authority over your best life.
When you display the "Road Closed" sign, you are telling others that they cannot enter your life.  Behind, this sign in the picture is a broken bridge, that  the authorities are protecting you from. In your case, do you understand why you are displaying the sign? It is for some sort of protection from your mind's eye— consciously or subconsciously. Pause and have a conversation with self to figure out why. Work on removing this sign from your life so that you can invite those who need to be with you on the journey to enter.
Are there "Road Closed" signs on display in your life? Leave me a comment to let me know.