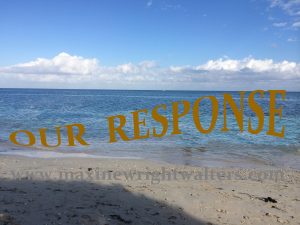 How do we respond to events or things in our lives, especially when we feel like we have no control over the situation? For some of us we do so explosively and for others with calm. When we have an encounter with someone else we have an interaction, which results in  an experience. How we respond plays in our Best Life practice because our response carves in the experience. It can make the journey pleasant or miserable.
Let's talk about our response.  We cannot control what others do, but we can control how we respond. A calm response is what the Best Life seeks. This may not be natural for many. However, with practice it is achievable.
I want you to Breathe, deep and hard as you embrace your experiences.  You don't need to rush out to get the experiences because  they will come to you.  Be present and it will happen. It will happen at the right moment. Breathe, be present and allow yourself to experience each interaction and take away from it what you need.
If you sit at the ocean's edge and notice its waves, you will see that they move to one rhythm. They tend to rise and move into the shore with a soft swoosh. You notice the togetherness of the waves as they move through different volumes of water. Also, they move in one direction. So is our path on our Life's journey. It is one directional and we are connected to our experience. Our response is proportional to the interaction when we BREATHE and are in sync. That is, our response can be elevated as or it can be demure.  BREATHE and take note of your response.
Like we listen to a song on the radio and tap our feet, or even sing along, we must do the same with our experiences. We must breathe and absorb, so we can dance to the rhythm of our experiences.  Breathe and listen. What is the beat of the interaction? We are on our Best Life journey. Make it count.
Leave me a comment and let me know about your response to events in your life.
Related articles across the web