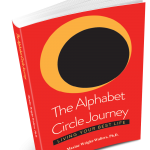 The Alphabet Circle™-Life is a Journey postulates, life happens and it happens for the best of us. Join me on this best life journey where we live in the present moment and at a higher level of consciousness. The Alphabet Circle Journey is about relationships and how they come and go from your Alphabet Circle. Every relationship shows up to help you achieve something on your way to your purpose and when its mission is complete it leaves. In this Best Life concept we do not get upset because we understand that every relationship is finite.
Please visit my author page at https://www.thealphabetcircle.com
Watch the video and leave me a comment.