Life gave me lemons! I pondered what it meant for my life. Why, Oh Why, I asked. With no time to loose, I  rolled up my sleeves  and reminded myself, I was on my  Alphabet Circle Journey™ and living my best life. Life had presented lemons, now what happens? You see, lemons can be a good thing or a bad thing, depending on your perspective.  I chose not to see lemon as the old car that was bought and the engine would not start. No way! My engine had to start. Life gave me lemons, but I was going to do something positive with it.
My Lemons Made Tea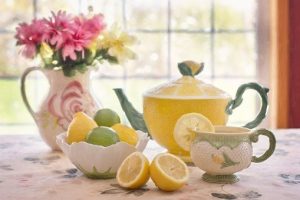 With a winning mindset, I decided to make lemon tea, as I am very fond of hot teas. You see, raised in a system conquered by the English, hot tea became a part of who I am.  Into a teapot of boiling water, I squeezed my lemons after rolling them on the table with the palm of my hands, so as to make sure all the juice would be extracted. Tea represents for me, something beautiful and good. It represents, good morning! The beauty of new dawn  with great anticipation of the sun coming soon upon the horizon. Life gave me lemons and now I have tea.
Why I Made Lemonade with my Lemons
As the days rolled on, I grew thirsty. I needed to get a cold drink to quench such a thirst. Well, I had lemons and lots of them. I resorted to what I know very well to do. I made a nice tart drink of Lemonade. Not just a glass but a jug of it. Because I had so many lemons that this life had thrown at me, I could afford to splurge on the lemonade, and I made the best of it. I made sweetened and unsweetened so as to submit to my taste buds. So, here I was having hot and or cold lemonade depending on which was my preference at the time of drinking. I learned to love this lemonade because I knew it was my answer to my situation. My lemons became lemonade and I loved it. I change what could have been a bad situation with action. What have you done with your lemons?